Adults only $25
Children $15
As darkness descends
"The Lady in Black" will begin your otherworldly tour of this Galveston historical landmark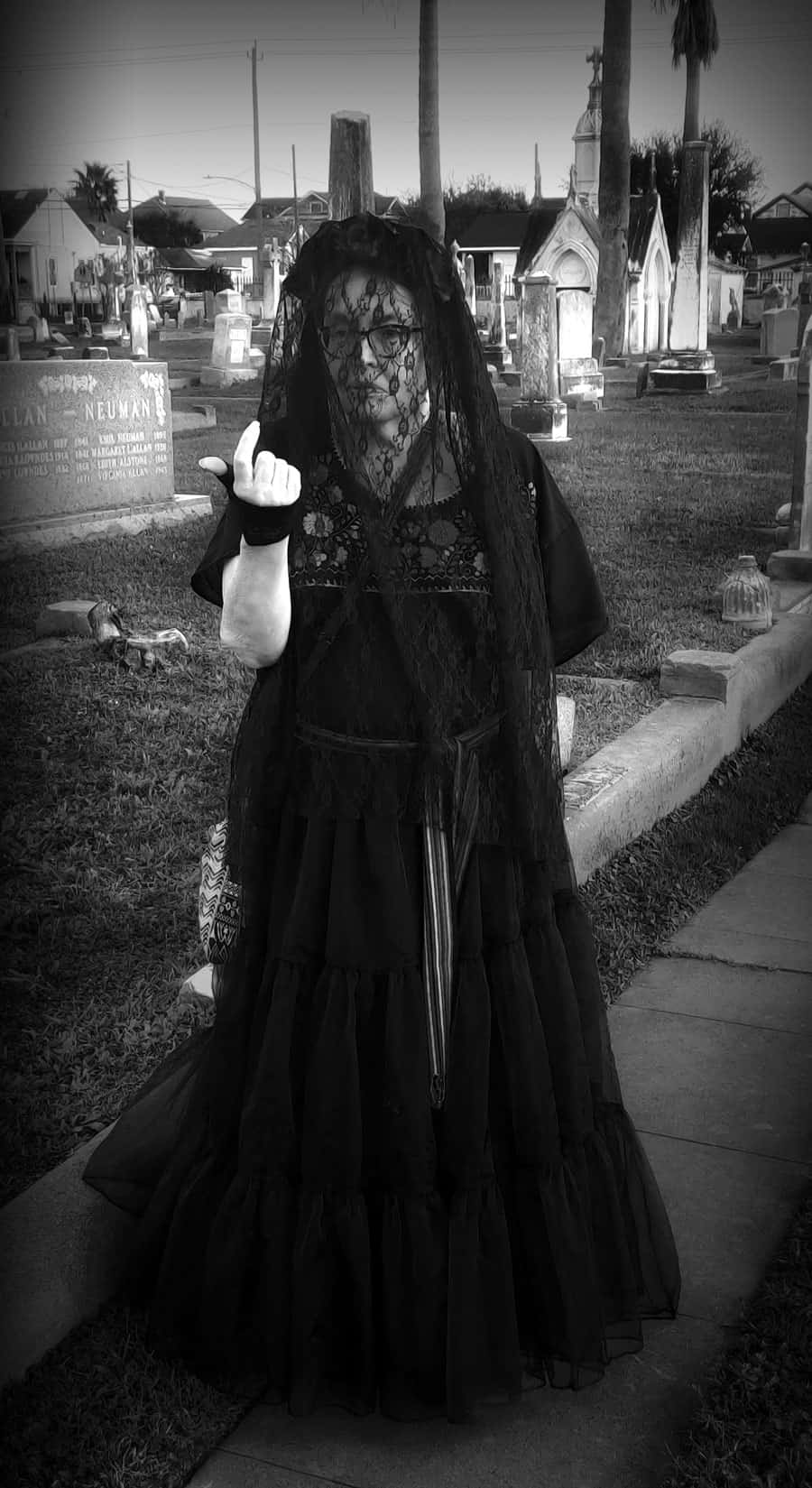 The Lady in Black considers the people buried here her friends and is anxious for you to meet them. She will leave no gravestone unturned as you walk gingerly among the graves pointing out the famous, macabre, and infamous spirits that haunt this cemetery. There is no one more qualified to guide you through a paranormal walk with the undead.
About the Cemetery's History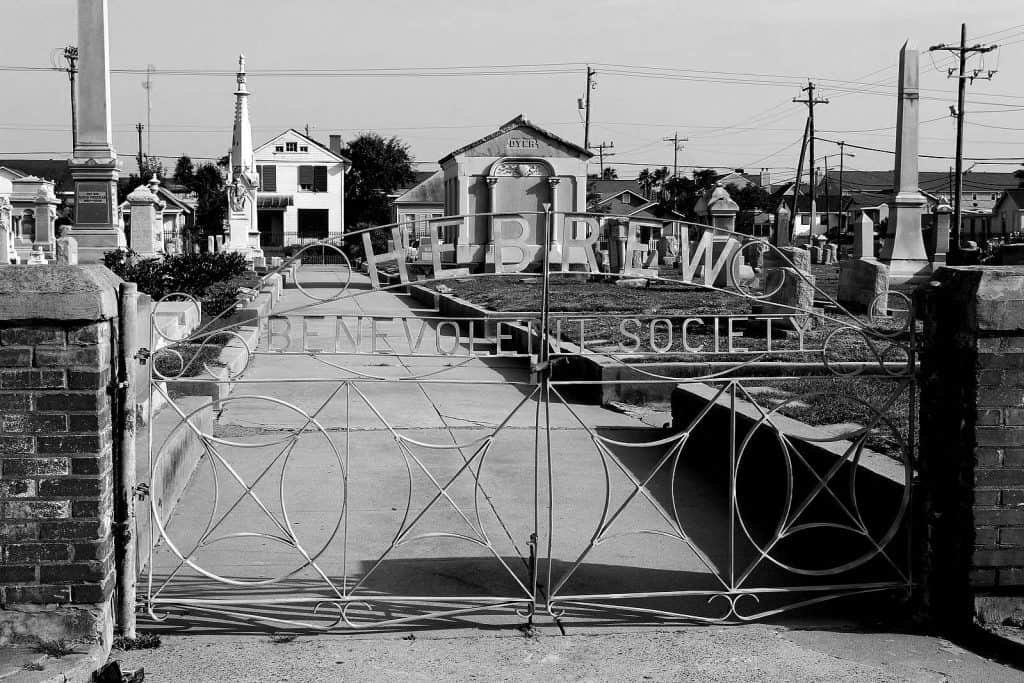 Dating back nearly 200 years, Old City Cemetery in Galveston is said to be one of the most unnerving sites in Texas. Few realize the cemetery they pass on Broadway Street is actually a collection of seven cemeteries built over the last 176 years. In that time, these cemeteries became the resting place for a menagerie of souls who bring a touch of mischief, mystique and the macabre to the island's haunted history.
You will meet "THE Lady In Black" near the corner of 40th street and Broadway where one corner of the Old City Cemetery is located. She will uncover the mysteries at the heart of Texas' more unsettling stories, such as the gravesite of Elize Roemer Alberti, known as the demented mother who took her own life in 1894 after killing her 4 children. The entire family shares the same burial plot. It is the only grave in America where the murderer is buried with her victims… her own children.
Then there is a sordid account of Nicaragua Smith, who is said to be the most verbal ghost that haunts the Broadway cemeteries. However, Smith's tombstone won't be found among the others. Smith was a convicted felon and Confederate Army deserter who was executed by firing squad at his unmarked grave site on Jan. 8, 1863 and buried face-down per his request. The newspaper refused to report the rest of Smith's final statement because it "concluded with an allusion to the Southern Confederacy which will not bear printing". On the anniversary of his death, you can hear him loudly cursing his executioners.
Tours are conducted nightly at 6, 8 & 10PM.
Private tours are available during the day if you do not want to be in the cemetery at night.
Please call John at 832-245-0492 to make funeral arrangements.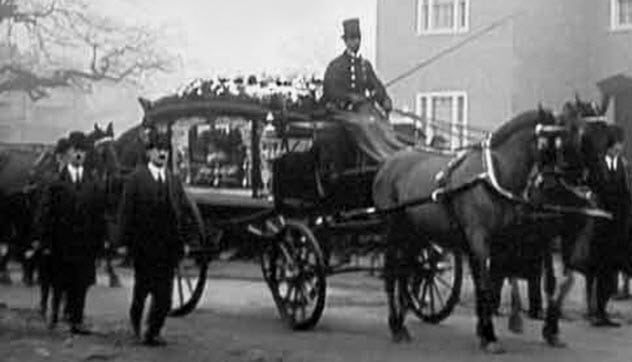 Come and take this awesome adventure and meet the spirits who live in the city of the dead.
Things to make your adventure more enjoyable:
Plan to be 30 minutes early for check-in
Wear comfortable clothing and foot attire. You'll be on your feet most of the time. Comfortable, closed-toe shoes are highly advised.
Bring a camera or any other ghost hunting equipment you have. You're part of our team so help us capture evidence.
Bring an umbrella if it looks like it's going to rain. The only time we cancel is if it's considered SEVERE weather.
If it's warm, bring bug spray if you like.
Our guides are permitted to accept tips. It's never expected but always appreciated.
Remember this is a ghost tour NOT a haunted house attraction. Be respectful of the dead. Most of all… come with an open mind and Have FUN!
"The Lady in Black is creepy, scary and so much fun. We loved her and the tour. Highly recommended."
"Absolutely take this tour! But not by yourself. The spirits can be chilling and you may want to hold onto someone."
"Kids thought the visit to the cemetery was the best thing ever. Still talking about it. Five stars!"
"After the tour, we had to leave the lights on in our hotel room. Even though we had fun, we were scared to death. No pun intended."
Darkness.
Terrifying

to some. Exciting to us. When the light is absent,

Mystery

and Surprises Await…
Frequently Asked Questions
How much does it cost
Tickets for adults are $25.
Children are $15.
Active military, free.
What are the tour times?
We offer tours at 6, 8 and 10:00pm.
Where do we meet?
We gather near the corner of 40th and Broadway.  Park on Broadway and go to the gate halfway down the block. In preparation, please arrive 15 minutes early before your tour starts for a meet and greet.
Please note: we are not able to hold the tour for any reason. However, if you are running late, no worries, you can just join the next tour.
Is this a walking tour?
Absolutely! It's the only way to get up close and personal with all the fun to be had. The Fog will begin to morph and suddenly you'll feel a cold breath on your neck.
How much walking is involved?
About a mile with frequent stops. We stroll along at a very comfortable pace. There is safety in numbers from what lurks in the shadows. And, we have never lost anyone... yet!
Are wheelchairs or golf carts permitted?
We're sorry. But the paths between the tombstones are too narrow for a wheelchair or golf cart. But your guide is always there to assist you.
Can we bring Fido?
Dogs are a favored guest on all of our other tours. However, out of respect for the dead, we ask that you not bring any animals on this tour.
Is there a bathroom along the tour?
No. For over 176 years, no one thought to provide a bathroom for the mourners!
Is there parking?
Yes, there is plenty of free lighted parking on the street.
What makes a ghost?
The paranormal researchers tell us that ghosts are formed in four ways; sudden death, demonic possession, habitual (they just don't want to leave), or unfinished business. When the 10,000 souls died in the great hurricane of September 8th of 1900, the massive loss seems to have triggered many of the most well known incidences of paranormal activity. It is further speculated that ghosts like to live near water, who knew.
What if I don't believe in ghosts?
Whether you're a believer, a professional ghost hunter or down right skeptic you'll be amazed and glad you took this tour. Read our reviews and see just how many minds we've changed. The history alone is fascinating.
Is this the tour appropriate for children?
Yes. But we assure you, they will be afraid. We would not like for anyone to have to leave because their child does not want to be in the cemetery any longer.
Do you offer a military discount?
ACTIVE MEMBERS OF THE MILITARY ARE FREE! Thank you for all that you do. You don't need to book a ticket. Just call 832-245-0492
Are you required to wear a mask?
You are not required to wear a mask, but you can wear one if you want. We want everybody to have a great time but also be safe. The entire tour is conducted outside in the open air so you can socially distance as far as you would like. Our tour guides speak very loudly so you'll be able to hear them from well over six feet away. You won't be touching anything. NO doors, seats or handrails. We won't even touch your phone to verify reservations.
What if it rains?
Wear a raincoat and bring an umbrella. We're like the post office, rain or shine, nothing keeps us from our appointed rounds. But if it's really pouring, you can reschedule, or we'll be happy to refund your money in full. No questions asked.